MX-AMP 60T (The Mixer Amplifier: 60 Watt)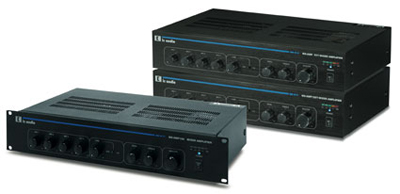 The mixer amplifier MX AMP 60T is ideal to be connected to up to four microphones (XLR, DIN, Phone Jacks for 3+4) and two line-sources (cinch-, switchable CD/AUX). An additional Sub-D connector is fitted for the M-E 01 desktop microphones.
Features :

Besides the precise volume control for each input channel the MX-AMP 60T offers fine adjustment of bass and treble.

To connect the speakers you can choose between a 100 Volt and an 8 Ωhms output.

The blue power-LED and a five digit LED-VU meter are informing you about the operational readiness and the output level of the 60 Watt powered mixer amplifier.

Modulation and contact controlled priority functions meet almost all requirements you can have for a microphone management.

Of course you can also use these mixing amplifiers without any priority functions.

A second 100 Volt output is only active, when making an announcement for areas in which no background music shall be heard for instance.

The mixer amplifier can be supplied by a 24V emergency power source.

Due to its compact housing (2U) the MX-AMP 60T is ideal for desktop or rack mounting.
Technical Specifications:
Technical Specifications
MX-AMP 60T
Power
60W
Frequency Range
MIC1~MIC4: 60Hz~15KHz +3dB
AUX/CD: 50Hz~20KHz +3dB
Tel: 100Hz~15KHz +3dB
Inputs
Mic1 / 2: 1mV~250mV, 250W
Mic3 / 4: -1mV, 250W
Line: -100mV, 47KW
AUX: 200mV, 47KW
Power in: 1V, 47KW
Outputs
Music / Speech: 8W / 100V
Speech: 100V
THD
Less than 1% at 1KHz, rated power
Mains/Battery Voltage
AC 115V/230V 50/60Hz
DC 24V (MAX 10% deviation)
Power Consumption
200W
Dimensions
88 X 430 X 300mm
Weight
8.5 Kg.
Colour
Black
Go Top
MX AMP 60T | T-60