Profx-T-60 (60 Watt Mixer Amplifier)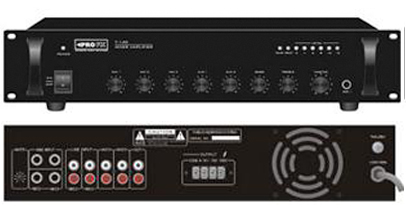 Pro FX range of Public Address mixer amplifiers have power rating from 60 watts and feature optional balanced MIC inputs, AUX level inputs and EMC (priority) level inputs.
Features :

Rated outputs 60W.

100V / 70V line transformer-isolated speaker outputs, low impedance 4-16 Ωhms speaker outputs.

Two EMC priority input.

Two stereo aux input and two-line output.

EMC input with priority over all other inputs except MIC 1.

AUXC, MIC, Tuner, Bass, treble volume control.

MIC 1 mute level control.

Power and protection indicators and 6 output level meters.
Technical Specifications:
Technical Specifications
Profx-T-60
Rated Power Output
60W
Speaker Outputs
4~16 Ωhms, 70V / 100V
Inputs
MIC 1, 2, 3: 5mV / 600W, Balanced / Unbalanced
AUX 1, 4: 250mV / 15w Unbalanced
EMC 1, 2: 250mV / 15Kw Unbalanced
TONE
Bass: 10dB at 100Hz
Treble: 10dB at 10KHz
Frequency response
50 Hz ~ 15KHz
S/N Ratio
MIC 1,2, 3: 66dB; AUX1, 2: 80dB
T.H.D
Less than 1% at 1KHz, 1/3 rated power
Cross Talk
MIC: 80dB, AUX: 85dB
Muting Function
MIC1 over other input signals with 0-30dB Attenuation EMC1 over all inputs except MIC1.
Controls
Individual gain controls, power switch
Indicators
Power LED, LED level meter protect
Protection
AC fuse, short-circuit and high temperature
Power requirements
~220V + / - 10% 50Hz
Power Consumption
100W
Dimensions (mm)
484 x 360 x 88
Net Weight
7.31 Kg.
Gross Weight
8.62 Kg.
Go Top
MX AMP 60T | T-60